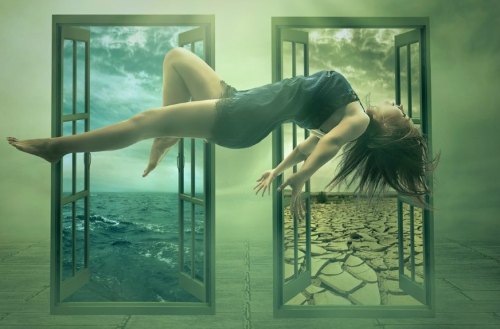 Lucid dreaming is a unique experience in which you are able to consciously control your dreams during the REM sleeping stage. Being aware of what you're dreaming and having the ability to control your dreams surely sounds like a superpower of a superhero, but it's only an ability of every human being. In normal dreams, you feel blurred and distant, because your self awareness is off. But when lucid dreaming, your brain is very conscious and turns your living reality into your dream world, where all your senses come alive and make the dream feel as authentic as your real life.
This state is completely natural and safe, because it's your mind that goes places, not you. You're physically still in your bed. Once the dreamer realizes that their experience is a dream, the possibilities are endless. Anything could happen, from traveling through time and space to flying like a bird. The dreamer can wake themselves up whenever they want to. But who'd want to run away from lucid dreaming. Below are some things about lucid dreaming that you probably never heard about.
Lucid Dreams Start Out Just Like Normal Dreams
Dreams are visual manifestations of human's unconscious brain, which are consisted of memories and information of things already in our heads. So technically, our brains are not capable of adding new characters, places and other information in our dreams. A lucid dream begins just as a normal dream, but once you become aware that your dream isn't real, that's when the fun begins. But since our brain allows us to see our lucid dreams, we cannot tell the difference between reality and dreaming that easily.
Violent Lucid Dreaming Could be a Warning Sign
According to a research published online in the journal Neurology, violent lucid dreams can be a warning sign that you're dealing with a rare sleep disorder, known as REM sleep behavior disorder. This condition forces people to act out their dreams, including screaming, kicking and punching. These violent dreams could also be an early sign of a brain disorder.
Ancient Egyptians are the First Lucid Dreamers
The Ancient Egyptians are responsible for discovering the sensation called lucid dreaming. This incredibly advanced civilization believed in three bodies: Ka – the living physical body, Shat – the corpse body and Ba – the soul. In the old hieroglyphics, Ba is represented by a bird with a human head. Many people believe that this flying human head actually represents the state of people when dreaming.
Gamers are More Likely to be Lucid Dreamers
Many studies suggest that people who play video games (who prefer being called gamers) are much more likely to be lucid dreamers than those who don't. The reason might be that gamers visit out-of-space and imaginary realms and worlds via games, but it's yet to be discovered. Furthermore, studies suggest that gaming lowers the chance of having nightmares and bad dreams.
Two Most Common Lucid Dreams: Flying and Having Sex
Scientists have found out that lucid dream sex and flying are the two favorite dreams of both men and women. The lucid dreaming sex can also be accompanied by a real physical response, such as increasing the heart rate, vascular tissue changes and other muscular reactions (you know what I'm talking about, guys). However, these dreams can be purely a result of an unconscious mind.
One in Five People Have Lucid Dreams Once a Month or More; 50% Have Had at Least One Lucid Dream in their Life
According to a study conducted in 1988 by Snyder & Gackenback, 20% of people claim to have lucid dreams quite frequently. Most people don't know the official name of these dreams, yet 50% of people have at least experienced lucid dreaming once. You may be surprised how many people you know are highly-skilled lucid dreamers; you just never talked about it with them.
There's a Special Part of Your Brain Responsible for Lucid Dreams
The famous dream researcher and psychiatrist Allan Hobson has found out how lucid dreaming works. First, the dreamer realizes that they're dreaming, which stimulates the area of brain responsible for self-awareness and memory. Normally, this area is deactivated when the REM sleeping stage occurs. But when the lucidity is triggered, the line between staying asleep and awake is very thin, so it's very likely to gain control over your dream and remember it.